Great Plains Rig

The wideskirt rig and 3" belt combination were among the most popular choices for the cowboys making the long drives to Abilene and Dodge. Sheer comfort for long wearing and protection for the weapon were the reasons.
Holster and belt may be had in suede lined or double thick leather.
Your choice of color and caliber.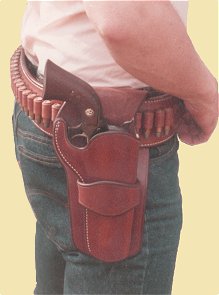 PRICES
One gun rig: $600.00 (plain finish)
Two gun rig: $800.00 (plain finish)