DOCTYPE HTML PUBLIC "-//w3c//dtd html 4.0 transitional//en">
ORDERING INFORMATION
(904) 679-4997

NOW FINISHING PRODUCTION RUN 67
NOW FINISHING PRODUCTION RUN 68
Prices
Each item's price may be found at the bottom of its catalog page. Note that these represent the stock base price for an item - any custom work or finishes will increase the price accordingly.
Payment Options
We can take your order by mail or by phone using VISA, MasterCard, Personal cheque or C.O.D.
Stock on Hand
Those holsters that we have found to be most popular and regularly ordered are kept on hand in fully assembled but unmolded and uncolored condition. When an order is placed we go the rest of the way to finishing it.

This takes time. There are only a couple of us handling hundreds of orders: this is the only way to keep stock on hand at all.
Allow 4 to 6 week delivery for stock items - read the note below about custom orders.
Items marked

are custom orders. These are not kept on hand but are scheduled for a production run when ordered. There may be considerable delay in making such items due to regular production commitments. Expect to wait some months. We promise the wait will be worth it!
These custom orders are billed when we start the work. You will be notified by mail of the beginning and estimated completion date. Please do not call repeatedly asking about your order, as this only slows us down in actually filling it.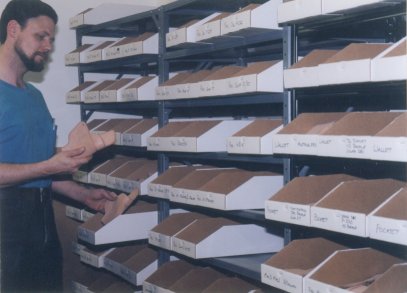 ANDREWS CUSTOM LEATHER
2745 Industry Center Rd.
Unit 4
St. Augustine, FL 32084
(904) 679-4997